Our Price
$160.00
MSRP
$299.00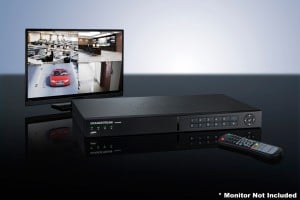 The GVR3550 is a powerful Network Video Recorder (NVR) that offers small to medium businesses (SMBs) and residential users a reliable and
easy-to-manage solution for video surveillance recording and monitoring. It provides video recording, indexing, searching and video storage management
for up to 24* IP video cameras to allow users to record and monitor their IP video surveillance network using one device. The GVR3550 supports all
Grandstream IP Video surveillance cameras and IP Video Encoders/Decoders in addition to all ONVIF compliant IP Cameras. Users can view the live feed
of up to 16 cameras simultaneously by connecting the GVR3550 to a TV or computer monitor or through remote access, and can save up to 16TB of video
files on the device by connecting up to 4 hard drives.
Feature Highlights
Up to 24 channels (RAID 0 and 7,200rpm HDD) or 16 channels* (RAID 1 or 5,400rpm HDD) of 720p HD video/audio real-time recording
Automatic discovery for IP cameras on the local network
Fully customizable recording rules: time based, event based, manual or automatic
Patent-pending storage system design that is resilient against power interruptions
Grandstream's innovative Direct I/O technology allows concurrent access to live view, searching and playback, PTZ and much more
1 HDMI and 1 VGA output for full HD local playback, easy-to-access USB, eSATA, alarm in and alarm out ports for future expansion and external integration
1 RJ45 10M/100M/1000M network interface
Up to 4 SATA 3.5" internal hard drives with maximum 16TB storage and RAID 0 or RAID 1 configurations
Automatic recording resume after power failure and automatic storage recycling
Complete security features including role based access control, event/system logs and hard drive content encryption
Technical Specifications
Video Recording
Up to 24 channels (RAID 0 and 7,200rpm HDD) or 16 channels* (RAID 1 or 5,400rpm HDD) of 720p (1280×720) or half the channel density using 1080p Full HD
Total Recording Rate
Up to 48 Mbps
Recording Modes
Continuous mode, record by schedule, event triggered or manual
Video Compression
H.264 baseline, main or high profile
Audio Recording
Synchronized audio and video recording
Audio Compression
G.711 (u-Law and a-Law)
Live View
Up to 16 channels of VGA, 4 channels of 720p, or 2 channels of 1080p via HDMI or VGA output
Event Trigger
Yes
Intelligent Search
Time & date, motion
Total Storage
Up to 16TB internally with encryp tion; additional storage available via external eSATA
RAID
RAID 0 or RAID 1 support
Storage Redundancy
Backup to USB
HDMI Interface
1 x HDMI
VGA Interface
1 x VGA
Network Interface
1 x 10/100/1000Mbps auto-sensing RJ45 port
Line-In
1 x RCA
Line-Out
1 x RCA
Alarm-In
Terminal 16 inputs (NO/NC), Vin 2. 5V~12V; Vin 2.5mA~30mA
Alarm-Out
Terminal 2 outputs (Relay), 0.5A at 125 VAC; 2A at 30 VDC
UPS
UPS Management (pending)
USB Interfaces
2 x USB 2.0 host ports
eSATA
1 x eSATA port
LED Indicators
Power, LAN Link/Activity, Hard Drive Activity, fn
Input
1 IR Remote Control; optional USB m o use and keyboard
RTC
Yes
Internal HDD
Up to 4 3.5" SATA hard drives with maximum 16TB storage (HDD n ot included)
QoS
Layer 2 Qo S (802.1Q, 802.1p) (Layer 2 QoS pending) and Layer 3 QoS (ToS, DiffServ, MPLS) coming soon
Network Protocols
TCP/IP/UDP, RTP/RTCP/RTSP, HTTP/HTTPS, ARP, ICMP, DNS/DDNS, DHCP (client and server), NTP (client and server), SSH, PPPoE, LLDP (pending), 802.1X, ONVIF 2.2
IP Cameras Supported
Grandstream GXV36xx cameras, GXV35xx encoders/decoders, & 3rd party ONVIF compliant cameras
Provisioning
HTTP, HTTPS, ONVIF
Security
HTTPS, 802.1x (pending), SSH
Management
Syslog, Web Browser, SSH, GSurf Pro (pending)
Universal Power Supply
Input:100~240V 50/60Hz
Output:12V/5A 60W
Environmental
Operation: 0°C to 50°C
Storage: -20°C to 60°C (HDDs not included)
Humidity: 10% to 90% non-condensing
Physical
440mm (W) x 343.5mm (L) x 44mm (H)
Package weight: 4052.5g
Mounting
1U rack mount with front brackets
Compliance
FCC: Part 15, (CFR 47) Class B
CE: EN 55022, EN 55024, EN 61000-3-2, EN 61000-3-3, EN 60950
RCM: AS/NZS CISPR22, AS/NZS CISPR24, AS/NZS 60950
Comply with R & TTE, RoHS & WEEE
* Monitor not included