Our Price
$67.50
MSRP
$85.00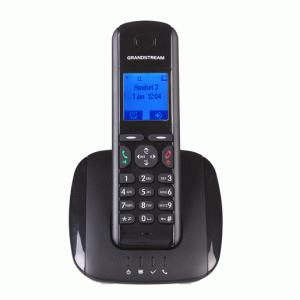 DP715 is the next generation of powerful, affordable, high quality and simple to configure VoIP DECT phones for small business and residential users.
Please Note: This model includes a base station.
Grandstream DP715 Summary
Compact size, superb voice quality, rich feature set, market leading price-performance and wide range radio coverage enable consumers to maximize the power of IP voice application and mobility for a minimum investment. DP715 is SIP and DECT compliant and field proven for flexible deployment.
Grandstream DP715 Core Features
DECT base station registers up to 5 DECT handsets and talks to up to 4 handsets concurrently
When multiple handsets share the same SIP account, Hunting Group supports the following flexible options:

Linear Mode, all phones ring sequentially in the predestinated order
Parallel Mode, all phones ring concurrently and after one phone answers,the remaining available phones can place new calls
Shared Line Mode, all phones ring concurrently and always share the same line similar to analog phones

Advanced telephony features including Caller ID, Call Waiting, 3-Way Conference, Transfer, Forward, Do Not Disturb, Message Waiting Indication, auto answer, multi-language voice prompt, flexible dial plan
Support comprehensive voice codecs including G.711, G.723.1, G.729A/B, G.726 and iLBC
Secure and automated provisioning using HTTP/HTTPS/Telnet/TFTP, multiple SIP accounts, SIP over TCP/TLS, SRTP
Multi-Languages – English, German, French, Spanish, Dutch, Italian, Czech, Danish, Greek, Norwegian, Polish, Portuguese, Russian, Swedish, Turkish
Grandstream DP715 Technical Specifications
Air Interfaces
Telephony standards: DECT / GAP Frequency range: 1880 – 1900 MHz (Europe), 1920 – 1930 MHz (US)
Number of channels: 120 (Europe), 60 duplex (US) channels
Emission power: 10 mW (average power per channel)
Range: up to 300m outdoors/50m indoors
Networking Interface
One 10/100Mbps auto-sensing Ethernet port (RJ45) ( DP715 Base Station only)
LED Indicators
Base Station : Power, Network, Register, Call
Handset Display
1.7" 102×80 FSTN LCD with color backlight
Factory Reset Button
Yes ( DP715 Base Station only)
Audio Interface
Handsfree speaker (Handset only)
Voice over Packet Capabilities
Base Station : Dynamic Jitter Buffer
Handset : Speakerphone with Acoustic Echo Cancellation
Voice Compression
G.711 with Annex I (PLC) and Annex II (VAD/CNG), G.723.1, G.726-32 AAL2, G.729A/B, iLBC
Telephony Features
Caller ID display or block, call waiting, Flash, blind or attended transfer, forward, hold, do not disturb, 3-way conference
QoS
Layer 2 (802.1Q VLAN/802.1p), Layer 3 (ToS, DiffServ, MPLS)
IP Transport
RTP/RTCP
DTMF Method
In-audio, RFC2833 and/or SIP Info
IP Signaling
SIP (RFC 3261)
Multiple SIP accounts per base station
Up to five (5) distinct SIP accounts per system; Independent SIP account per handset; Multiple handsets per SIP account
Hunting Group
Linear mode; Parallel mode; Shared Line mode
Provisioning
HTTP, HTTPS, TELNET, TFTP, TR-069 (pending), secure and automated provisioning
Security
Security protection: SIP over TLS and SRTP.
Device Management
Web interface or secure (AES encrypted) central configuration file for mass deployment. Support device configuration via built-in IVR, Web browser or central configuration file through TFTP, HTTP or HTTPS. Auto/manual provisioning system. NAT-friendly remote software upgrade for deployed devices including behind firewall/NAT. Syslog support
Phonebook(Per Handset)
200 numbers (up to 24 digits) with an associated name (up to 16 characters); 10 outgoing call entries; 30 incoming calls entries
Multi-language Display
Base Station Web UI: English; Voice Prompt : English, Spanish; Handset LCD Menu (15): English, French, German, Spanish, Dutch, Italian, Czech, Danish, Greek, Norwegian, Polish, Portuguese, Russian, Swedish, Turkish.
Polyphonic Ringtones
18 different ringer melodies are available to indicate an incoming call (internal intercom or external VoIP)