MSRP
$159.00
Call for Pricing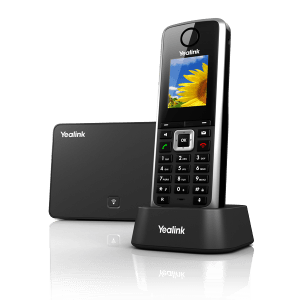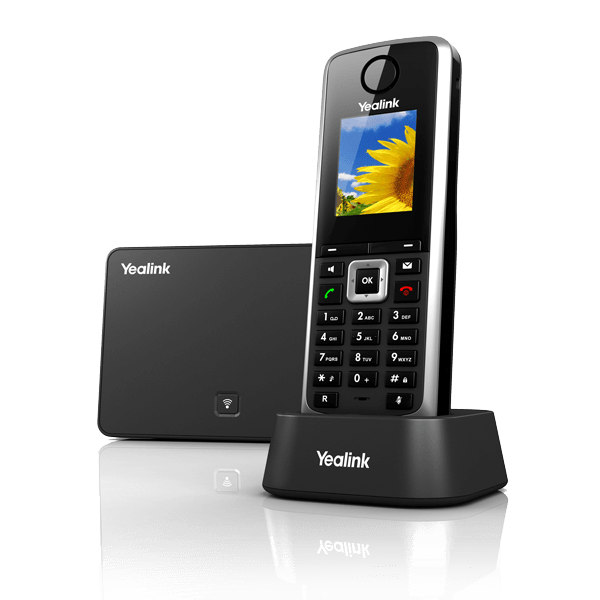 The Yealink W52P is a SIP Cordless Phone System designed for small business and SoHo users looking for a cost-effective and scalable SIP-based mobile communications system. The Yealink W52P combines the freedom of wireless communication with business features usually reserved for desk phones, such as intercom, transfer, call forward, 3-way conferencing, and the option to use a power supply or power over ethernet. This system works on Broadsoft, Asterisk, and 3CX with quick and easy configuration.
Please Note: Includes 1 Yealink DECT Base Station, 1 Yealink DECT Handset, and charger. For additional handsets, please see the Yealink W52H.
Yealink W52P Summary
---
A flexible VoIP solution for small businesses
Exceptional HD sound with wideband technology
Up to 4 simultaneous external calls
Up to 5 DECT cordless handsets
Up to 5 VoIP accounts
1.8″ color display with intuitive user interface
10 hours talk time, 100 hours standby time
Integrated PoE (Class 1)
Desktop or wall mountable
The Yealink W52P has:
Up to 5 DECT Cordless Handsets Per base depending on your needs.
DECT radio coverage up to 50m indoors and 300m outdoors
Energy-saving ECO features
DECT technology:
CAT-iq2.0 focuses on high quality Audio VoIP (wideband), as well as low bit – rate data applications, fully backward compatible to DECT GAP.
Yealink W52P Core Features
---
Up to 4 simultaneous calls
Up to 5 handsets
Up to 5 VoIP accounts
Handset select for receiving call
Handset and Number select for making call
Paging, Intercom, Auto answer
Call hold, Call transfer
Switching between calls
3-way conference
Call waiting, Mute, DND
Caller ID display, Redial
Call forward (Always/Busy/No Answer)
Speed dial, Voicemail, Silence
Message Waiting Indication (MWI)
Phonebook for up to 500 entries (stored in the base)
Phonebook search / import / export
Call history (Outgoing/Missed/Accepted)
Direct IP call without SIP proxy
Soft reboot or factory reset
Keypad lock, Emergency call
Dial Plan
Music on hold
Anonymous call, Anonymous call rejection
Personalization
9 ringer melodies
Screen Saver
Two kind of colour schemes
Multiple languages
Yealink W52P Technical Specifications
---
Voice and Codecs Features
Full-duplex speakerphone
Receiver volume control: 5 steps
Ringer volume control: 5 steps+off
Multiple advisory tones
Acoustic warning for low battery status
DTMF
Wideband codec: G.722
Narrowband codec: G.711μ/A, G.723, G.726, G.729, iLBC
VAD, CNG, AEC, PLC, AJB
Network Features
SIP v1 (RFC2543), v2 (RFC3261)
SNTP/NTP
VLAN(802.1Q and 802.1P)
802.1x, LLDP, PPPoE
STUN Client (NAT Traversal)
UDP, TCP
IP Assignment: Static/DHCP
Security
Open VPN
Transport Layer Security (TLS)
HTTPS (server / client)
SRTP (RFC3711)
Digest authentication using MD5
Secure configuration file via AES encryption
Admin / Var / User 3-level configuration mode
Connectors
CAT-iq2.0
1 x RJ45 10/100M Ethernet port
Power over Ethernet (IEEE 802.3af)
Headset jack (2.5 mm)
Handset upgrade via USB
Physical Features
Range: 50 meters indoor, 300 meters outdoor
10 hours talk time, 100 hours standby time
1.8''128×160 pixels color display
Desktop or wall mountable
LCD backlit, Key backlit
Energy-saving ECO mode/ECO Mode+
12 key numerical keypad, 5 navigation keys, 2 softkeys, 6 function keys, 6 shortcut keys
3 LEDs on Base: 1 x power, 1 x Network, 1 x Call
Base station: DC 5V / 600mA Output
Charger: DC 5V / 600mA Output
Phone size: 144mm x 50mm x 24mm
Base station size: 153mm x 108mm x 45mm
Operating humidity: 10 ~ 95%
Operating temp: -10 ~ +50°C