Our Price
$42.50
MSRP
$79.00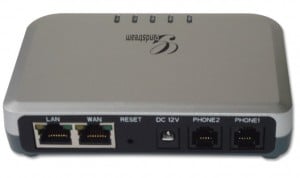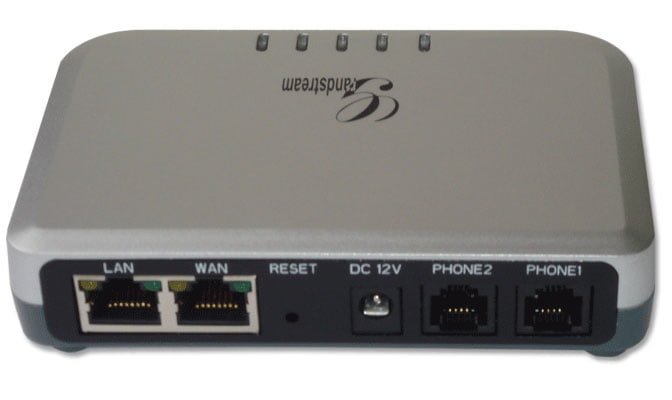 The Grandstream HandyTone 502 is a VoIP ATA that features 2 FXS ports, and dual 10M/100Mbps
Grandstream HandyTone HT502 Summary
---
The Grandstream Handytone 502 is the next generation of powerful, affordable, high quality and manageable IP telephony ATA/IAD for residential users and road warriors. Its compact size, excellent voice quality, packed feature functionality and market leading price-performance point enables all consumers to maximize the power of IP voice and data connectivity for a minimal investment.
The HT502 is SIP 2.0 standard compliant and features 2 FXS ports, dual 10M/100Mbps Ethernet ports with integrated high performance NAT router, port status and message waiting LED, and a base stand for vertical positioning. It supports Universal Plug-in-Play (UPnP), up to 2 SIP account profiles, and traditional and advanced telephony features.
The HT502 provides an enhanced level of security and provides automated provisioning using symmetric and asymmetric voice codec/RTP in any call sessions, and supports a broad range of popular voice codecs.
Grandstream Handytone 502 Key Features
2 FXS telephone ports (RJ11), dual 10/100 Mbps network ports (rj45) with integrated high performance NAT router
Status LED for power, telephone and network ports, and message waiting indication
Advanced telephony features including caller ID, call waiting, 3-way conference, transfer, forward, do not disturb, message indication, multi-language voice prompts, T.38 fax, flexible dial plan, direct IP calling
Comprehensive voice codecs including G.711(a/u-law), G.723.1, G.729A/B/E, G.728, G.726-40/32/24/16 and iLBC
UPnP, secure and automated provisioning using HTTP/HTTPS/Telnet/TFTP
Up to 2 SIP account profiles, SIP over TCP/TLS
Symmetric and asymmetric voice codec/RTP in any call sessions
Grandstream Handytone 502 Features
---
Telephone Interfaces
Network Interfaces
Two (2) 10m/10mbps ports (RJ-45)
LED Indicators
Power, Wan, Lan, PHONE1 and PHONE2
Reset Button
Telephony Features
Caller ID display or block, call waiting with caller ID, flash, blind or attended call transfer, hold, call forward, do not disturb and 3 way conferencing
Voice Codec
G.711 Annex 1 (PLC) and Annex II (VAD/CNG format), G.723.1A, G.729A/B/E, G.728, G.726-40/32/24/16, iLBC
Voice over Packet Capabilities
Voice Activity Detection (VAD) with Comfort Noise Generation (CNG) and Packet Loss Concealment (PLC), Dynamic Jitter Buffer, G.168 compliant Line Echo Cancellation
Fax over IP
T.38 compliant Group 3 Fax Relay up to 14.4kpbs, Fax Datapump V.17, V.19, V.27ter, V.29 for T.38 fax relay
DHCP Server/Client – NAT Router
Yes, can operate in NAT router or Switched Mode
Network Protocols
TCP/UDP/IP, RTP/RTCP, HTTP/HTTPS, ARP/RARP, ICMP, DNS, DHCP, NTP, TFTP, TELNET, PPPoE, STUN
QoS
Support Layer 2 (802.1Q VLAN, 802.1p) and Layer 3 (ToS, DiffServ, MPLS) QoS
IP Signaling
SIP (RFC 3261), SIP over TCP/TLS, up to 2 SIP account profiles, symmetric and asymmetric RTP/codec in any call sessions
DTMF Method
Provisioning & Management
UPnP, TFTP, HTTP, HTTPS, Telnet, secure and automated provisioning system for large deploymeny, syslog
Caller ID
Bellcore Type 1 & 2, ETSI, BT, NTT, and DTMF based CID
Universal Power Supply
Output: 12VDC, 0.5A
Input: 100-240 VAC, 50-60Hz
Features
HT-502
Ethernet Ports
2 RJ45 10/100 Mbps
(LAN/WAN)
NAT/Router
Yes
DHCP
Client/Server
FXS Port
2
Fax Support
Pass-Through via G.711 and T.38
Audio Codecs
G.711(a/u-law), G.723.1, G.729A/B, G.729E, G.728, G.726-40/32/24/16 and iLBC
Call Features
Caller ID, call waiting, 3-way conference, blind and attended transfer, call forward, do-not-disturb, voicemail, and more
Remote Configuration
Secure and Automatic via TFTP/HTTP/HTTPS/Telnet